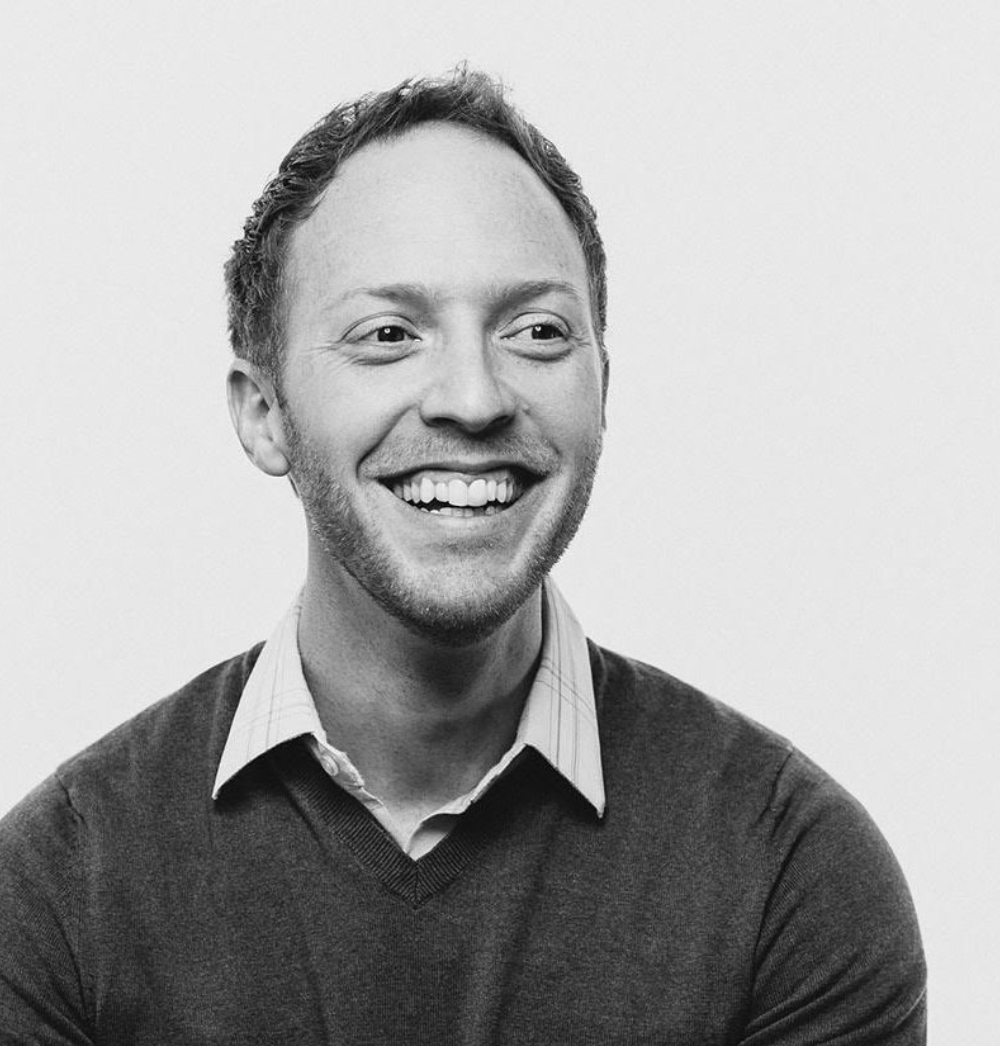 Matchstic
~55 minutes
Behind the Rebrand: Brightwild
How do you know when your brand needs a little tweaking versus a complete overhaul?
Formerly One of One, Brightwild is a travel platform connecting people in real life through personalized experiences and standout stays. The brand was in need of both a new name and a new identity system, both of which needed to stand out in a crowded hospitality scene.
With a discussion led by Blake Howard, learn from Tracy Clark, Brand Strategy Director at Matchstic and Dave Imber, Director of Brand at Brightwild, as they examine what it takes to transform a brand from check-in to check-out in this webinar replay.
Transcript
Blake Howard:
Thanks for joining our Behind the Rebrand webinar. My name's Blake. I'm the creative director and co-founder at Matchstic, and I'm excited to spend some time with you today and walk behind a project we're really proud of. We hope that this is a pretty casual conversation. I'll introduce the guests along with me today in just a minute. But we do hope that this is a chance for you to see a little bit behind the kind of process, work and thinking that goes into something like this. So today we're focused on this idea that not every rebrand is the same. Some rebrands are more evolutionary where key identifiers are just tweaked and evolved. Think about maybe the 2015 Google update when it went from a serif logo to sans serif, but the bright, wild Google colors were still intact. It was widely recognizable. So that's pretty evolutionary.
However, sometimes there is more of a revolutionary change that is desired and how do you know when it's time to do something that drastic? It's a little bit like a scrape and rebuild, if you will, and it says, you know what, we're going to start over, we're going to get rid of any identifiers we previously had and we want to send a major change signal out to the market. And that is certainly what we get to talk about today with Brightwild and with Dave. So before I introduce Dave and Tracy, quick just run a show. We're going to walk you through the work, some of our thinking, some casual Q&A between the three of us, and then we will make time for questions at the end. We have our lovely little Q&A feature here that Brianna on our team is going to moderate and hopefully we'll have plenty of time towards the end to get into your questions.
So Dave Imber is the director of brand at Brightwild, formerly known as One of One. Brightwild for those that aren't familiar is a travel platform connecting people in real life through personalized experiences and standout stays. We will definitely talk more about that and what that means. Previously, Dave was the VP of Brand and Creative at Rove, a family of mens subscription brands. And before that he was at a couple agencies and had a lot of experience on the side of managing a brand, creating brand, and being in the trenches as a creative. He was our main point of contact through this whole project and a major advocate every step of the way. I'm very thankful for him to be here and for him to be willing to just offer a lot of transparency today. We're going to pull the curtain wide open. Sometimes you get a little sneak, but this is like we're going to show it all. And this project has been his baby and he's been super involved in it, and he quite literally had a baby during this process. So not only was he our point of contact, but he and his wife had a child during this. So man, that is quite the journey.
Also joining him today is Tracy Clark. She is our brand strategy director. She oversees a team of strategists. She leads select projects, and she's going to chime in more on the research, the strategy, and our naming work for Brightwild today. So excited to have her join us.
And to kick us off, I would like to hear from Dave first. Just help us understand a little bit of the state of One of One, which was the beginning of this story. It was known as One of One, and you all were considering a rebrand in 2022. Help us understand why was that the right time to rebrand and why did you feel like everything was on the table and it could be a complete overhaul.
Company Background
Dave Imber:
It's actually really interesting the state of One of One, because One of One was actually quite new, the name. We originally were founded about four years ago as QS Vacation Company, and right before I started working at One of One, they had gone through this transition to become One of One Stays under a year prior to my arrival. I started in May of '22 and I had a prior relationship with the CEO. I'd known him from past work I'd done at other agencies and worked on projects of his and his family companies prior. And I took the job and knew of this big vision that he had for One of One and what he wanted it to be and how revolutionary he wanted to be in the travel and hospitality industry and almost how counterculture to how most vacation rental managers start and launch businesses. His vision was vast and he was quite convicted by the vision for where this company could go.
So within two weeks of being there and really working with him and hearing from him, it was very obvious very quickly that the brand was wildly disconnected from this really big, bold vision of the future of One of One. So that was probably the first thing I noticed, was it felt disconnected from our leadership's vision.
Second, we had hardly no assets to work with from a brand standpoint. We had a pretty standard style kit, type a logo, color, and that was about it. And so being someone who has worked in the creative field for a long time but is not a designer, that's challenging. It's hard to evolve a brand and communicate effectively without a toolkit to do so.
And then thirdly, I think if you asked everyone at our company what we did in one line or two lines, you would get a different answer. Now they all would point back to what we do in our individual departments every week, but it was never a cohesive and consistent thought of what our goal and what our mission and vision was as One of One. And so those three things considered, I quickly proposed, "Hey, can we do some brand updates?" And to Billy's credit, our CEO, there was no hesitation. And that is something that I will say is in my experience, extremely rare, especially for someone who just young company, just launched a brand and it's like, Hey, this isn't really working. We need to do more. Okay, let's go. And so that was the first month on the job for me.
Blake Howard:
Wow, I love that. So going into that change, knowing it was a big investment for One of One, a big initiative that you were pushing - so there's a connection between your performance and your role at this new job and the success of this project. Were you concerned going into that work? Did you have trepidation? Did you have any fears? Tell us more about how you felt going into it to get started.
Dave Imber:
I think there's always a little bit of fear on the in-house side, wondering "Is this going to come out the way that we think it is? Are expectations going to be in line with the investment that has to be made to do this correctly? Can I and my team show value once this goes out without pointing it to traditional marketing metrics where you can show if a campaign is successful or not?" Branding is so different and such a longer runway of showcasing success. I think the hesitations were around this idea of "Will this picture that I'm painting as why we need a premier branding agency to come in, meet the expectations of what product they will deliver six to 12 months from now?"
And I think that's pretty common in other branding projects I've done. But this one being like a whole company overhaul where naming was on the table, was one where it's like, all right, I hope this works.
Research and Strategy
Blake Howard:
Tracy, you led the research and the strategy and the naming. You were heavily involved in that. Knowing where Dave, Billy the One of One team was coming from. What do you feel like is most important in approaching a project like this when there's a revolutionary change that's on the cusp of happening? What do you feel like is most important to be thinking about?
Tracy Clark:
That's a great question. I think a lot of listening is most important. You have to eliminate all preconceived notions that you might have and not jump to the finish, because we can assume so much early on and say, I've seen this before. We've done that. Every client is so very unique and especially Brightwild, and we really had to do a lot of listening from a lot of different angles and from an internal process perspective, sharing really early and dirty so that we could loop in writing and design teams and being really openly collaborative with Dave and team as well. So making sure that we're doing little gut checks, pulling at threads, making sure we're pulling at the right ones.
And from an outcomes perspective, just making sure that clarity came first, clarity before cleverness because there was a lot of confusion. We had to work on distinction and attraction for sure, but clarity was a big issue. How people were coming in a lot of times from third party sites, if they came by, we had two different audiences to serve, so there were guests and there were property owners. We had to make sure that we were really clear on what the offering was first.
Blake Howard:
Zooming out a little bit, big picture, what kind of speed bumps or landmines or interruptions get in the way of a process like this, and how do you typically try to avoid any of those interruptions?
Tracy Clark:
There can be many. I think the biggest one is a lack of commitment and not prioritizing it, not prioritizing the work. And that can be from a scheduling perspective and also from an emotional investment perspective. And one thing that was really nice about One of One team, now Brightwild, is that they really were all in. It was palpable how invested they were in this and they made that decision what felt like before they had their first conversation with us. And that set the stage for such a good partnership and really good outcomes, because they were ready, they knew they were ready, they were all aligned and they were committed. So that's a big one.
And then not looping in the right people upfront can be challenging. So if you think you have a board that's going to be influential in the decision, make sure you loop them in early and at the right cadence, tell them what's expected of them and remember to speak up. There were definitely times where in the Brightwild work we had to have those tough conversations and it was really important that Dave and team spoke up to get it right. So speak up.
Blake Howard:
Yes, we'll definitely get into some of the that. I also think some of the interruptions that you mentioned around the commitment, when there's a name change on the table and there's an incumbent name, even though there's a problem with it, if the problem isn't so great that everyone's aligned, "yes, we need to make this big effort to switch over to the new one," that incumbent name will eventually stay the name. So if the pain isn't so great that everyone's like, yes, we have to change, it will eventually just stay because people don't like change. And the naming process is so subjective and difficult. It requires so much imagination and vision that it's just comfortable to go back to what everyone's already known. I would definitely agree that the commitment that Dave and the Brightwild team had to making the change was phenomenal.
Tracy Clark:
And they were okay with being uncomfortable too. That was important. They're like, yes, we fully expect to be uncomfortable.
Blake Howard:
So let's walk through some of the research insights, Tracy, give us the beginning story and then walk us through just cherry-picked a couple important research insights and then walk us through some of the strategy and then eventually we'll get to the naming.
Tracy Clark:
Totally. This was the prior brand look and feel. As you can see, it was clean, super tasteful, really crisp. There were a lot of things that they were doing well, but the challenge was many other organizations, competitive organizations were having that same vibe and they were embracing that really well and doing a pretty decent job of it. So when you think of Sonder, AvantStay and a few others, they were all doing this look pretty well, adding different touches, but by and large, it was clean, it was minimalist, it was a lot of white, very crisp. And so we had to focus on gaining more attraction and distinction in that space.
What we thought was how do we create a brand that connects people to places in each other? Because when it came to, Dave, you mentioned this earlier, there was a real disconnect between the vibrancy that we saw in-person and the experience of the brand on screen. To us there was so much more than meets the eye within the first conversation, the first visit. And so there was a misalignment of what might attract folks to your brand. The alignment internally was very strong as far as vision and excitement and growth for where you're going, but it just wasn't felt externally and wasn't connecting.
Actually, this was one of the most fun immersions we did, because we spoke to locals, flew down to Key West, their HQ, got introduced to a lot of locals through immersion outings. We spent the whole day just immersing ourselves in that Brightwild vibe.
And we interviewed employees and owners. We actually went under the hood a little bit and did some guest reviews and owner testimonials. And then we did that brand and industry audit. And then one of the interesting things about our research, and forgive me, because this is, Dave, don't laugh, this is a snap from my iPhone. And you'll see a couple of those, but when you walk in, this is what you experience and it's just so unique and different. It's still crisp and clean, but we needed that "yes, and" that we weren't feeling from the web experience, from the channels that the guests were encountering. So yes, to clean, crisp, and comfy, but we had to be sure that we were delivering on that unique part as well, because everyone was claiming it, but no one was really backing it up or proving it out. So that uniqueness had to be proven and felt.
And then just a quick touch on target audiences. We had three main ones in total, two of the guest audiences and one of the property owners. And the common thread really, they have their different nuances of course, because personas are different, but they all deserve great unique experiences. And so if you're a guest, you want to experience that personally, whether you're traveling with a group or with a family or solo. And if you're a real estate property owner, you deserve to deliver on that message on a great near perfect experience so that people will continue to want to stay with you. So that shared value proposition was around great original experiences. And Dave, we had fun with this one because rebellious, these are our five brand personalities. And we explored a few different options, but where we landed was I think just perfect for where we were.
We had a little, one of the challenges was rebellious, so we talked back and forth. Do you remember that Dave? We went back and forth on rebellious.
Dave Imber:
Vividly.
Tracy Clark:
And where we ended up was keeping it, because what rebellious can mean is dependent on context. And what we mean by that is creating positive change. And Brightwild had the unique ability to be open and smart enough and capable to create positive change. So that's where the rebellious comes in. But then we also have things to counter that, like in-tune and real, there's a great energy towards what you all do and this curiosity that empowered you to not only think about what's the best guest experience we can possibly deliver, as well as how can we push the industry forward. I think one of the challenges was landing the personality attributes.
Dave Imber:
It was harder than landing the name.
Blake Howard:
There's an insight there that when you work hard to get the strategy just right, I think it's interesting because sometimes people view these types of slides or these types of conversations, not as pragmatic or "Do we really need to be doing all this?" But the more you can wrestle around attributes and personality words and align on those, go through rounds and rounds of it, that's good, because then by the time we got to the name, it was like boom, we knew exactly what we needed to deliver on. So you can pick your battle. You can go through round and round of names, or you can go through round and round of adjectives that we all understand, because the naming part's a little bit more complex. So the tighter this strategy work is the more aligned to the creative usually is.
Tracy Clark:
Totally. And that's why we have to be so open and collaborative in this part of the process, because if we're not doing it early, then it's going to be a real challenge down the road. We had this healthy conversation around rebellious, and because of that, we were able to get all of us fully bought into this particular set of five. And so when we think about positioning, so we take that audience information, the conversations we had, the interviews we did, all the research that we looked under the hood with. And what we realized is that our positioning is, unlike others we're really multidimensional. We, Brightwild, don't have to be beholden to typical travel experiences, we actually have the ability to be both professional and crisp, but also offer something a little bit more unique and special.
But we have to prove it. Right? We have to show it, we have to live it. And if you haven't yet experienced the Brightwild brand, you might not know. So we have to make sure that that's reflective in all of the work. So where some travel brands were focused more on maybe luxury or groups or ease of booking, some focused on the dreaminess and loftiness of travel in general, but they couldn't really make it specific to themselves. Whereas no one was really talking about what it means for you as a person to travel. And Brightwild, even if you look at the site, it feels like you're already a part of that story. And so we thought that was a really nice way that it landed, but it's all about meaningful experiences.
Blake Howard:
Tracy, tell us more about this photo that's here.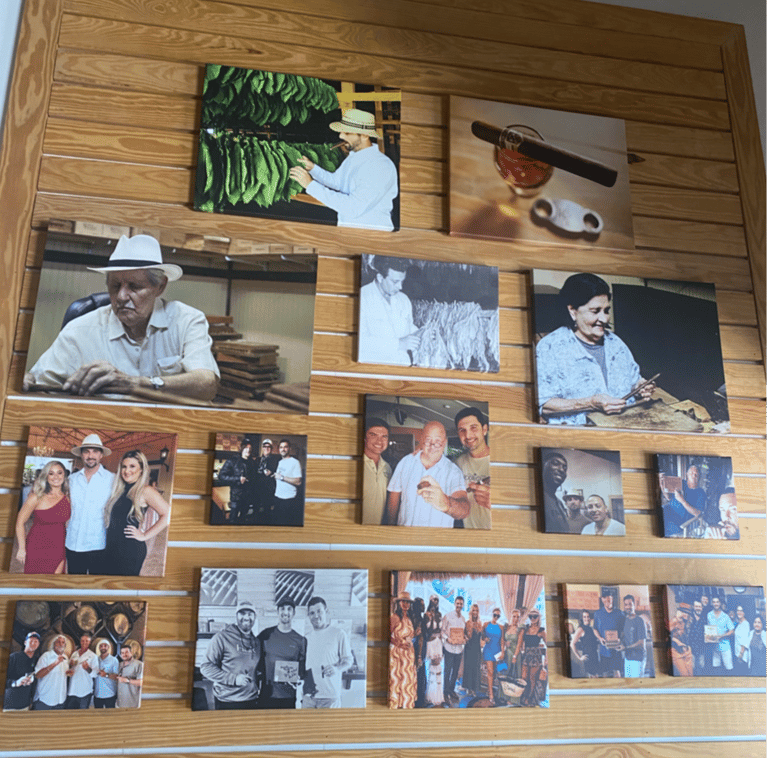 Tracy Clark:
This was actually when we went to that cigar store, that cigar maker, and we were just looking on the walls. They were sharing their story with all of us and just being very open and welcoming and warm, talking about their family history and the connections. And this is something that Brightwild would always take a step further, because it's not enough to say, "Go here," it's more about "Let me introduce you to this person." And they've been in business in Key West for decades, right?
Blake Howard:
Yep. It was just the coolest boutique cigar place that the owner explained how he's been in the business for generations. His family's been in the business for generations, and most travelers would just walk right past it. But because of Brightwild's connections and curation, we were able to go and experience this. And that was a major insight into what would drive what was coming next.
Tracy Clark:
And then here we have our complete brand strategy. We try and put it on a page. We have all the backing in front of it, but really we like to land on one page so that anyone can take it internally, externally, and know the key points and tenets of our North Star brand strategy. So we've got our positioning statement. We can connect people and places to transform adventures into meaningful life experiences. And so that's what I was talking about earlier, when you think of deep human connection is the purpose of a meaningful life. I think I borrowed that from a quote, but it's inspiring. Travel can create inspiration and it can create connection. But most importantly, it makes your life more meaningful, more well rounded. And it can be transformational because whether you are going with a group of people or meeting new people going solo, it's going to be meaningful or it can be.
Naming
Tracy Clark:
And then naming. Naming was fun for this one, because as Blake said, by the time we had positioning and personality and understood our target audience, we had a really refined way to look at naming. We have a great process, but this one was particularly fun. And what we realized as we worked through the brief and as we talked to Dave and team, is that our name should sound like how we all want to feel when we travel. This is Dave and Blake in a Moke and Dave, you might want to explain what a Moke is.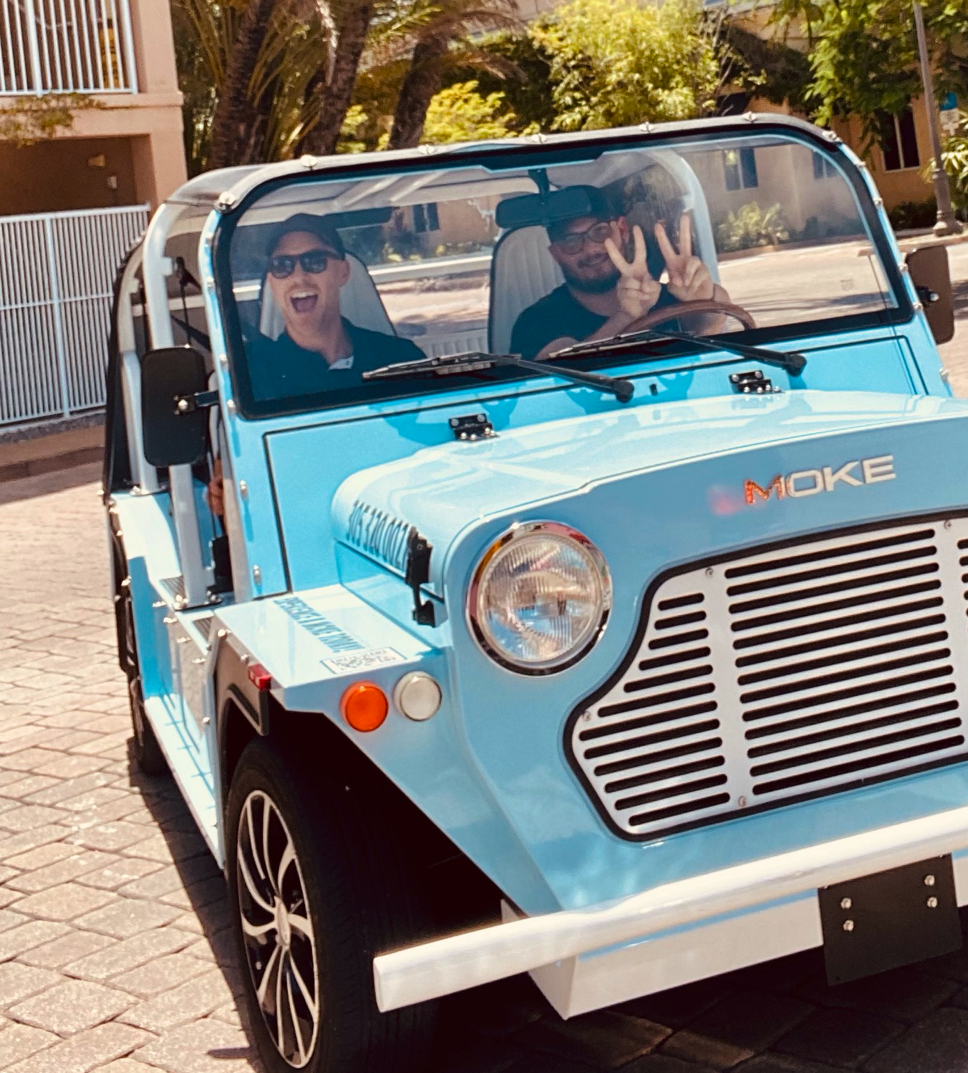 Dave Imber:
Mokes look like Jeeps, but they're like souped up electric golf carts that look like Jeeps that you can drive on the road because it's Key West and if it moves forward you can drive it on the road. But that's what we toured that whole day from sunup to sundown literally (and past sundown) in was these Mokes and you get ultimate access to Key West because it's really hard to park and drive full-size vehicles, especially downtown. But with these, we were able to get into the alleys and the back streets and the smaller shops. It was a great time.
Blake Howard:
All right, so let's transition into the name and I'd like to hear, so maybe a little context. So when we go into a naming process like this, the most difficult part is obviously finding something that you can trademark and own. So the travel category from a trademarking perspective is very crowded. You have hotels, you have restaurants, you have anything related to tourism, you could potentially cause conflict there. So you have to find a name that's different than everything that falls into that category. It's very crowded. So really the options are you completely make something up, you get a fabricated name that's hard to say or spell, but you can own it or you can start to call it mashup. Mashup words, do a compound name and that's where we landed. You can read some of it, the rationale on screen. I'm curious, Dave, to get your reactions. We looked at hundreds of names, we curated it down to eight to 10 for the first presentation. What about Brightwild for you was just like, "Yes, this is it"?
Dave Imber:
Okay. First of all, it was hard for me to get past the top right where it said brightwild.com is available. I was like, this is awesome. And then as you guys are presenting, at least I am quickly googling each word to see what populates first. Brightwild, there was nothing. There was a really small band that spelled it with two words and immediately I was just like, man, this is something that could be so ownable for us, which is very unique and rare to come by I think. And if we're trying to paint this picture of uniqueness without literally saying "we are unique" and we're trying to share this experience of travel or this feeling of travel, which can be seen through design, through your actual new experience. Maybe it's through the local culture like we were talking about with this idea of like, hey, come with us. We're not just going to point and tell you where to go. We're going to bring you along. It needed to have this feeling.
And so going into that call, one of the things I was thinking about was I just want this name or this word to pop up and make me feel something that I agree with, with the brand. And so when Brightwild was said, it was like, oh, what? The energy is there. Billy, our CEO constantly talks about being net energy contributors to culture, to our company. And Brightwild is that. It's like this jolt of life and it's equally as unique to really play into what we want to do with our spaces in creating them. And so I think there was a couple other that was in my short list of three or four. Brightwild was at my top. It was fun to say and love that we could own it and really decide and define for ourselves what that word will mean for people for years to come.
That's a really great position to be in on an in-house branding team, is to get to fill in that definition year after year.
Blake Howard:
And what about getting buy-in from everyone else on the team? Was it universally like this it? Was the CEO, Billy, was he like this is it? We had access to Billy in these presentations, which is another contributor to why I think this project was successful because anytime we can discuss things as one large group, that's really helpful. But was there any contention behind the scenes around is this really the right one? Were there others that were considered or was it just like, yeah, this has got to be it?
Dave Imber:
We got off the call and I immediately prepped my case for Brightwild very quickly, all my notes, I was just speed writing and called Billy probably 30 minutes or an hour after it and was just ready to push Brightwild. And then here's why, here's all the reasons, here's all the things you might not like about it that I now have prepped to tell you why that's incorrect. And I was like, okay, Brightwild. And he's like, yeah, okay, I like it too. And I was like, okay, but the reason why we like this, he's like, no, I like it. And I'm like, okay, but you might not like it because of X. If you really think about it this way. Anyway, he was pretty bought in right away and so was our whole team. The one through word in everyone's shortlist was Brightwild. For everyone that was on the call, that was part of the decision making on the Brightwild side.
And anyway, the next day he was like, "Okay, yeah, let's go with Brightwild." And this is coming off of, Tracy, the five words that was probably roughly a month to land on those and going back and forth a positioning statement or the overall strategy statement that took several weeks to land on. But again, to what you said earlier, Blake, I think because we spent so much time challenging every single word and why we were deciding them and how that's going to impact naming and visual identity and everything, because of that, it made this jump off the page. It is just a great name anyway, but the strategy really made this jump off the page and it made it into this no-brainer.
And that's when we pranked Tracy and she joined the call late when we were approving this and I said that, "And that's why we're going to have to part ways here and I think Tracy's." Tracy's jaw hit the floor and it's like, "Just kidding, we picked the name already. It's amazing."
Tracy Clark:
That was an amazing prank.
Dave Imber:
Do we get to know who picked this name? Does anybody know who came up with it?
Blake Howard:
And on our side behind the scenes there are four or five folks that will contribute to a huge pot of names and then they'll all go into a giant list and then that same group will spend an hour going through all of them. We do silent voting where they're in a spreadsheet. We'll put an X by something that catches our eye and if it's already got an X, you don't need to re-X it. So we don't get groupthink where we all start voting for one that we all love, but we just make nominations. If it gets nominated then it's still in and then we'll send a couple hundred to legal and legal then is brutal and crushes our dreams and gets rid of most of the names that were top of our list. But every once in a while something sneaky like this slips through the cracks and we get really excited about it.
Tracy Clark:
It worked out pretty magically. We had vetted over 250 names, so for this to get through was pretty special. I think we presented around 13 in that round, but there was a lot of gravity around this one. And I think the thing that I was concerned about initially was when we were giving interviews or conducting interviews on site, there were some people who really loved the name One of One. And so that was a bit of a watch-out, because we knew we had to come up with something that could build more affinity, more energy and more love for the name. So oftentimes the incumbent is big battle.
Blake Howard:
So we have the name in hand, and the next step in the process is to think about how to bring that to life visually and verbally. So everything before the name, we call that under the waterline, you can't see it, but it's what forms, like if you think of an iceberg analogy, everything below the waterline you don't see, but that's what forms the mass that you do see above the water. So we're starting to get above the water and thinking about how do we bring Brightwild to life visually and verbally. We go through some creative strategy where we talk about competitive logos, their style, we talk about competitive color and then what color might start to fit with those attributes that we've already defined. We then think about typography, we think about overall approach to combining color.
We also talk about brand voice. This is something that gets skipped over quite a bit in these types of conversations, but the voice part is so important and we knew that we wanted to find the right application of the voice. We also knew that the industry, we called it flavorless or super dreamy. It was the extremes. It was real generic or real dreamy and not practical enough. So we wanted to find something that we felt like had an edge, that had a little bit of that rebellious spirit. And so we will prototype different headlines and we'll group them and have a conversation of a spectrum. Where does our voice need to fit? Does it need to be just a little rebellious or does it need to be some travel experience you've never had in your life? That's a spectrum of edges that we explored and we started to hone in on that.
Visual Identity
Blake Howard:
We also started to have a really good collaborative discussion around how do we start to think about graphic elements? How do we visualize this idea of exploration and connection? What does it look like to feel curious and joyful also with that dose of rebellious spirit? So this is where we're just dreaming. We're curating these slides together, really just to provoke a conversation. We want to have a reaction from Dave and his team so that we can start to align on what's the right way to go forward. After that discussion we say like, we like this little bit or this little bit.
We then moved into what we call visual and verbal concepts. So that's where we started to introduce logo types, symbols, overall graphic approach to different look and feel, starting to move the needle a little bit more on messaging and prototype that some.
Here are the four logos that we presented on this round and then here's some of the visual system that came to life. And I'm curious, Dave, just to check in here with you, at this point in the process, we presented this first round of creative. How did you feel at this moment in the process?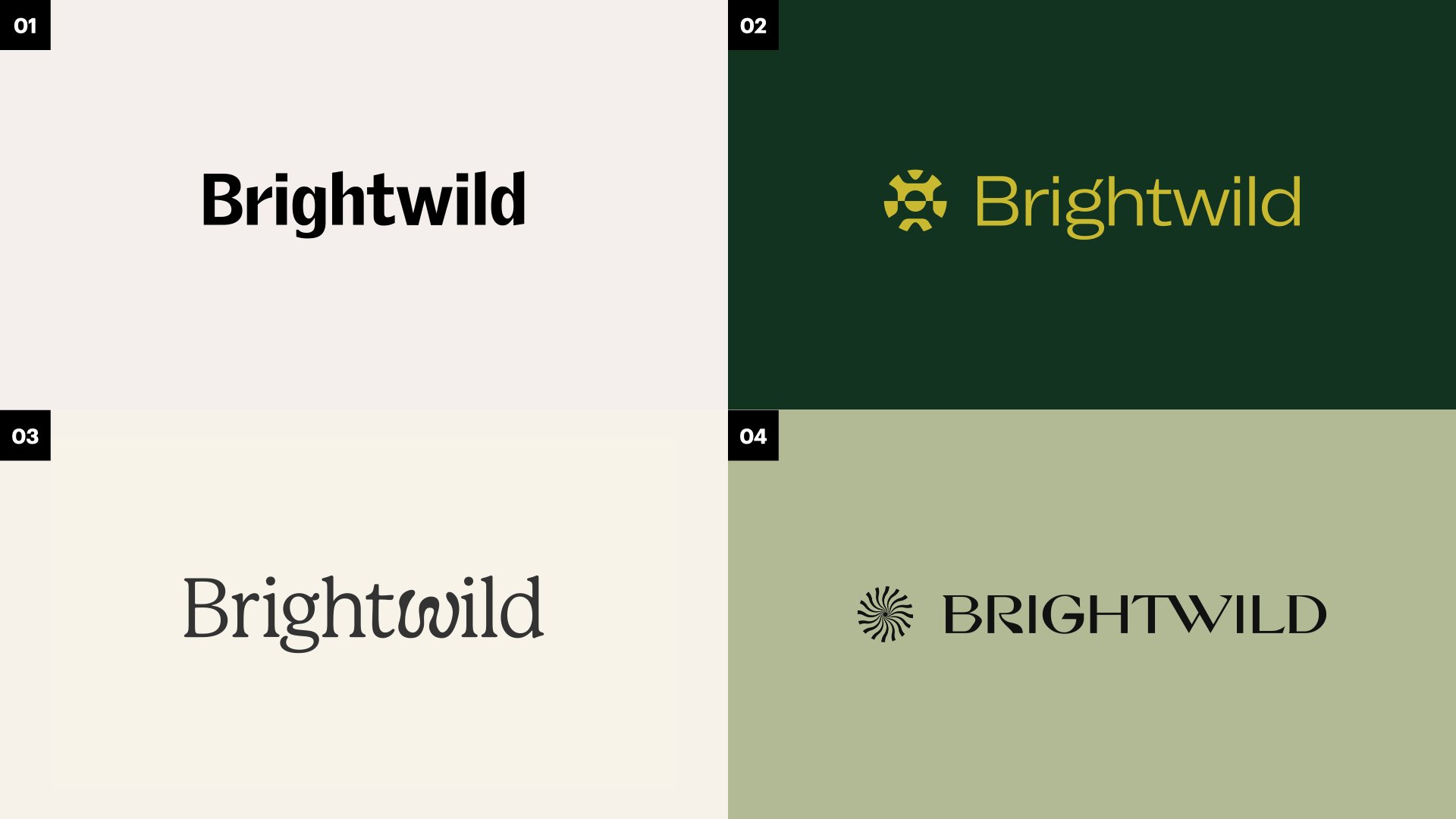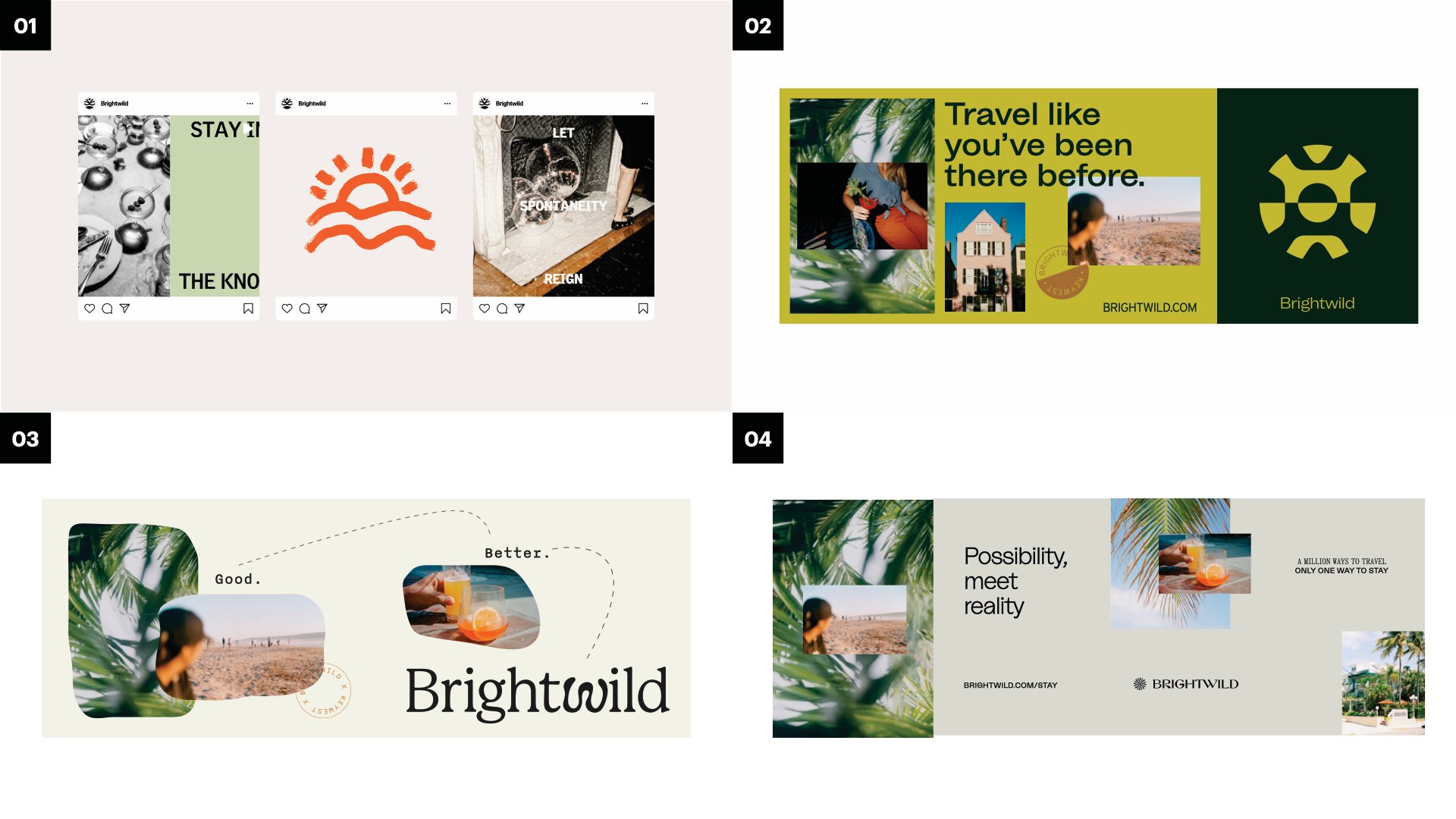 Dave Imber:
This moment was one of those "oh no" moments, where the naming came in based on the strategy and it made sense quickly. Then we got into visuals and it was like, that's not where we were anticipating this going based off of everything we had discussed in the past. I think what's really interesting is when you have to zoom out and go, okay, "Why?" Because we're not looking at bad design here, but our opinion based on what we thought we'd see in the vision for the brand doesn't line up. It wasn't hitting the mark for us. And so we had to take a step back and say, okay, "Why?" Which is also the scariest thing you can do with the design team, is like, "Okay, none of these work, but we need to tell you why." And I also want the design team to still be really excited in solving this problem. We're not just shooting all these down for no reason. There's something here.
And we looked back, I think it was a couple things. One was when we were doing these typography mood boards and looking at the spectrum of stylized serifs to monotypes and then your more really modern and traditional sans serifs, really more like what we landed on. We were missing that side of the spectrum. I remember we sent feedback via email and then we didn't regroup and hash it out like we had been doing throughout every part of this process. And it was like, "Oh, they'll get it. This is what they do. They're designers, they're the best at it. We just really want to see the work." And I also think it was that rebellious word too that we talked about earlier, Tracy, our definition of rebellious, which in our heads was more this bold confidence versus your definition of rebellious, which I think lended itself to more of these stylized approaches.
Anyway, I remember you presented this and then calling Blake after like, "It didn't hit, I don't know why. I don't know what to do. We got to figure something out here." And I think the next day, me, you, Blake, Brit and then Elizabeth, our design manager here at Brightwild, we got on a call and we did what we had been doing the whole time that we skipped over in this last part, which was this challenge, this back and forth of defining what this means and what this word visually translates to. And then also going back to, I forgot to say this when we talked about naming, we picked Brightwild, but we had talked about and loved this story of Brightwild being this tuxedo that opens up to this crazy color. Because the name is so bright and wild, we didn't want this literal initial look at the brand mark to be bright and wild.
We wanted it to have restraint and we didn't want it to be overly stylized. And so once we had that conversation, and I think concept one, the system was great and it's the system that we're using, but it was the typography and color and treatments that weren't working. But anyway, I could go on forever about this, because I think this is the coolest part of this process was "None of these worked, oh no, what are we going to do? This missed. Is this over? Are we done?" And then it was like, "No, we need to go back to this spirit of high challenge and understanding and just backtrack a little bit and get it right," and then we really got it right.
Blake Howard:
There's a misperception I think that these processes always go super smooth and you just nail it and crush it. But I view it more as like you are chiseling stone and you slowly whittle it down to a masterpiece. It's not like day one you're going to see the Statue of David. We're going to have to take chunks of the stone out together and whittle it down together. And that's essentially what happened. And it's a balance of understanding Dave and his team's perspective and our perspective and then just trying to meld that together to make something even better, which I think we did. So next up we went back to the drawing board and we focused mostly on symbols. We had some vision and some direction with the visual systems like Dave just mentioned, but the symbol was still not quite right.
We were trying to figure out, okay, if it's going to be more of a literal pictorial symbol, what would it be, like a sun? Which it was hard to figure that out. So we were like maybe it should be abstract. If it's abstract, we've got to have a simple idea that we're trying to communicate. So maybe it's transformation, what should it be? And you can see some of these explorations here. And eventually we got excited about just a letter form. A letter form is always a great place to start for some sort of a symbol, but we want it to do more than just be a B, you want it to be an ownable B. And so what we liked about what you can see, number six down there, is it's a B, but if you tilted, it actually transforms into a W also. And we loved that idea that it had some movement. We loved the transformation story and that was super simple and really resonated.
And of course we showed also those marks with some system elements just to keep the conversation going. And then eventually we refined that into what is out in the market today with the B next to real simple type setting, Brightwild with a lot of fun additional colors. We also had to refine the core message too. So we really liked this idea of traveling smarter like you have this inside person helping you, connecting you, and that's some of the ideas that you can see here. Stay in the know, stay like a local, book smart, street smarter. But ultimately where we landed was this first one, travel like you've been there before. It was simple, it was direct, it was easy to understand. It had a little bit of an attitude. And so we just started to expand the visual language. You could expand that letter form to be a big container shape.
We created the illustration style. You can see there at the bottom. We started to mock up the website and how it might start to come to life and the way you could use the pieces of the B in a graphic pattern. And then here you can just see a lot of it coming to life in motion and working together. I'd love to hear Dave from you and then we'll open up a Q&A here in just a minute. What about all of this as it came together just felt right to you? Why did you feel like this was overall the right identity for Brightwild?
Dave Imber:
It was exciting looking. I think that's the simplest way to put it. It had this energy. Part of why we loved the symbol that we landed on, the big abstract B was that it could become this container for photography. And we really wanted to highlight this localized set of photography and find ways to have the brand show up there without just having to put the name on it. And so it gave this sense of vulnerability. We ended up, I was really hesitant about the multicolored system initially. And then when we saw it start to come to life, it was like, this is incredible. Forget owning a green, that's horrible, that's boring. How do you manage a brand for years that when you only get one color? With this palette we could do so much.
And there's so many sub-brands. You have real estate here on this one. We just launched Brightwild Adventures. We're working on a Brightwild studio for some of our in-house design work and there's so many extensions we want to do and continue to expand to that. This identity system felt limitless, but also very identifiable no matter what elements you were bringing together.
Blake Howard:
All right, Tracy, just get your quick reactions, thoughts and we'll do Q&A. From a strategic perspective, how did this creative deliver on that positioning idea or some of the strategic footing that you had put in place?
Tracy Clark:
I think amazingly well. The team and I created this North Star and just saw it come to life in such a great way with this. It directly counters that distinction challenge, because it balances this, Dave, when you talked about the tuxedo, it balances that sophistication, fun. You don't have to choose, you can actually live both of those. So you can have a reliable, clean, comfy stay, but more importantly something that feels unique and meaningful to you and it feels effortless. If you go to the site, you just feel at ease and you want to click, you're drawn in. And I think that it really hit the nail that people are multidimensional and this experience just shows that, and you're invited into that experience.
Q&A:
"How do you define your target audiences as the branding agency? Are you the one doing the main market research? Are you taking what Brightwild has already brought to you? How does that relationship work out?"
Tracy Clark:
It's a little bit of both. We definitely take any and all information that the client has and use that as a springboard. So again, questioning everything, asking the why, why did we think this way? Why is this persona important? Are they different enough? And then we also dig into psychographics. So demographics are important, but especially for hospitality and travel, we have to understand the why behind what's making you want to travel, what is that mindset? But they had a pretty good starting point. We just needed to make sure that we understand the clarity between the guest experiences, the two target personas for the guest, and that there was enough value proposition for the owner.
"I would love to hear about the client management or servicing when Brightwild thought that they were unhappy with the initial round of designs shown. What did that look like to reassure them and maintain trust?"
Blake Howard:
That's a great question. It's as simple as Dave and I got on the phone and talked through it. It wasn't like that was the first time Dave and I ever had a conversation. So him and I had spent all day in Key West together, and in many meetings. And so I think as a creative director it's my job to really understand who our clients are as individuals and what we're trying to accomplish and then helping that. So for me it was more about discovery, help me, I want to understand specifically what's off. Because I know where we took the work, I want to know how you feel like it's off and then we will be able to bridge that gap. I feel like it was just a conversation that Dave and I had and then the follow-up with the team.
Because the other thing that I think is important there as a creative director is to not then just call the team and be like, "Dave's unhappy, he wants to pop and be different." We all need to come together and talk and ask questions and build it as a team and not have a middle person there. What do you think, Dave?
Dave Imber:
I agree with a lot of what you said, Blake. I don't know if this is one of Matchstic's words, but this idea of challenge and curiosity really shines through in your process. That also is our core values of Brightwild, which is why I think this worked really well, which at the end of the day you have to have somebody that will then mediate and make it happen. But to have two challengers does make the work better. I think that ability to already have had a rapport with the whole project team and it not be like these people that then go off and we don't know who is touching the work, to be able to have those conversations. Our Queen Melissa was part project manager, part therapist, had many, many phone calls with her where I felt like it was a space that we could be really honest. And like, hey, this is really frustrating, a really frustrating part of your process that we feel like we're at a roadblock with. How do we move past this? Never met with, "Well this is how we do it at Matchstic, so get in or get out, but we're the designers." It felt like there was always a positive compromise that wasn't just you guys bending the knee or us demanding it be done a certain way that ultimately led to this being really successful.
"I'd love to hear a little bit more about the rollout. You're given these brand guidelines, where do you take it next?"
Dave Imber:
Speaking of Queens, Elizabeth on our end, our Design Manager, and really when we launched this rollout, our sole designer at Brightwild, for everyone who's in this Q&A that is a designer, you can sympathize and also probably be very wowed at the fact that the majority of this was rolled out by one actual designer. Elizabeth also has this energy of high challenge. And it's a theme. If you don't have it here, it just doesn't work out. And so following the guidelines that you guys built, which are almost 100 pages long to a T, and then also not being afraid to poke and pry to why you guys made the decisions you did. And then us as a team, since we were so involved in this process, we have a lot of pride in this brand. And so we want it to be very successful and we know the potential it can be because of the work that you guys put forward.
And so it is hard work and the majority of our time is spent extending this brand, challenging when we see pieces come back that don't feel like they fit, going back to the guidelines literally daily when we're doing layouts and mockups and tone of voice, that is what we use it for most, I would say, is "Are we speaking correctly? Are we speaking through this filtered voice of Brightwild?" But commitment is what I think it takes to do this and just decide that we will roll this out successfully and intentionally. And then I think that shows itself in all of these assets and things we've launched since then. You guys gave us great pieces to work with and we have a team that's determined to do it well.
Tracy Clark:
Dave, you and your team were also very decisive. You were committed, but you were also decisive and you didn't overthink it. So when a problem came up, we communicated and you all made decisions and moved forward. So that kept that momentum. I thought that was really admirable and appreciated.
Dave Imber:
That's in our strategy too. At Brightwild, we're empowered to make decisions. It makes it a lot easier to make decisions.
"What was the timeline for this project from kickoff to launch? And can you give a little insight on how long each step of the process took?"
Tracy Clark:
I can give a window into the strategy and research phase.
Dave Imber:
It was, what? 10 months total project?
Tracy Clark:
Yeah, roughly. I would say so ish. And the strategy piece in particular, research and strategy can take anywhere from three to seven, eight months depending on the depth. If we're doing extensive external research, it can take towards the longer end of that. Naming takes a couple of months.
Blake Howard:
And the naming process, it's like, well, how long does it take to come up with the name? Not that long, but it takes a long time to legally vet them and to make sure we do a lot of due diligence, which is part of, we have a legal partner that we loop in and they do a lot of that search for us. Because the last thing that we want to do is share a name that the client falls in love with and there's a clear conflict that they cannot have. I even say when we landed on Brightwild so quickly, I probably said on that call, "We shouldn't fall in love with one. We should fall in love with two to three," because you still have to do a deeper legal vetting after that.
So you do like a knockout search that takes a couple of weeks, and then you do a smaller set, two to three, and then you do a deep dive on those and things just get missed and they pop up. And so fall in love with two to three generally is what I say. But fortunately we fell in love with one and it passed all the legal requirements.
Dave Imber:
That was the fingers crossed moment, because I was like, we're bought in on this one. I hope the pre-checks were pretty solid.
Blake Howard:
"Don't break our heart."
Tracy Clark:
And someone asked about the responsibility of the due diligence. It's all of us. So we do a cursory, as Blake mentioned, with a legal partner, and then the client has to take it and run through their legal team as well and do a proper more deep dive.
"One final question: one for Brightwild side and then the Matchstic side. Dave, from this project, what lessons have you learned to take forward to future creative projects?"
Dave Imber:
Process, simply. I think good process makes creative work almost unsubjective. I think there will always be subjectivity in it, but the process that you guys took us through made it really easy to make decisions fast, because it wasn't solely based on my opinion of great design or Billy's opinion of great design or Elizabeth's opinion of great design. It was great design that made sense to the strategy. Great copy that made sense to the strategy, which also Cam is just a absolute legend of a writer and we try to emulate his writing all the time. But yeah, I would say process was our biggest takeaway by far.
"Matchstic team, anything learned from the Brightwild project that you're using on clients currently?"
Blake Howard:
Well, my quick reaction is just this was 2022, and remote working for many agencies, us included, has become a driver in the way that we engage with clients. There's a lot of efficiency there, which we love. However, spending a couple days with the Brightwild team in Key West in their HQ and really getting an understanding of the CEO, his vision, the context of Key West, all the nuance that they're going to bring from a hospitality perspective, was tremendous. And you just can't replace that. Ironically, because the brand is all about connecting people to places and people to each other. That connection is important for this type of work. Having that relational connection in-person is everything.
Tracy Clark:
I agree. I would add to that, the connection of the team. I touched on this earlier, but there's a real difference when the internal teams are aligned and ready and ready to make decisions together and have that common path forward. It's a huge driver of positive change. So that was my recommendation for getting your ducks in a row. If you know it's time to rebrand, if you're seeing the signs on the wall like you're embarrassed about your business card or your website or feels outdated, outgrown, get the team on the same page and make sure you're all really well-connected. And Brightwild absolutely was. Different opinions, but all connected on the vision.
Blake Howard:
Thank you so much for joining. We hope you enjoyed it. We appreciate your time and we'll hope to see you soon.